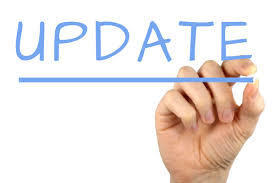 School Closure Update
Dr. Greg Bower
Thursday, March 19, 2020
Dear Como-Pickton Students, Parents, and Community:
The rate of the spread of this COVID-19 virus as well as its proximity to our district, has led me to find it in the best interest of our school community to order our school closed until at least April, 10th • Last Thursday, there were 11 counties with confirmed cases of the virus. By Saturday, that number rose to 17 counties, and as of yesterday, there were 23 counties with confirmed cases. Several of those counties surround our county, and I believe there to be presumed positives within our county itself; though, there are currently no confirmed cases. Additionally, there are 941 schools ordered closed throughout the state of Texas. Furthermore, several states have already ordered schools closed for the remainder of the year. With that perspective in mind, I do not want to spread false hope to the community that we will more than likely return to school on April 13th • We will keep with our optimistic projection, and monitor the situation closely between now and then.
Within the next few days, Monday at the latest, your child's teachers will begin contacting you to determine the most effective way in which to deliver your child's instruction. While we would like to incorporate online learning for everyone, we understand the needs of our community and realize that some of you do not have internet access. For some of you, that is a financial manner, and for others it is simply not available in your area with any consistency. In some cases, the teacher may just prefer to send instructional material home through hard-copy resources. Whatever the case may be, our goal is to work with you to make sure your child's educational needs are met during this trying time.
In addition to meeting your child's educational needs, we also want to make sure that we are meeting your child's nutritional needs as well. Before the end of the day today, we will post on our website as well as our social media pages instructions on how we can provide your children with breakfast and lunch.
As I mentioned previously, we are embarking on something none of us have ever experienced in our lives. During these uncertain times, my administrative team and I will try our best to share as much information with you as possible. It is new to all of us, and I am sure we will make mistakes along the way. Please know in advance that we are moving forward with a servant's heart and any of those mistakes are unintentional.
Students, please stay away from large crowds and gatherings. We miss you. We love you, and we hope this all passes quickly that we may get to see you back in our classes again soon.
Very Truly Yours,
Dr. Greg Bower
---
Estimados Estudiantes, Padres y Comunidad de Como-Pickton:
Basada en la rapidez del despliego del COVID-19 y lo cercano que se encuentra a nuestro distrito, me ha llevado a decidir que es en el mejor interés para nuestra comunidad escolar ordenar que la escuela permanezca cerrada por lo menos hasta el 10 de Abril. El Jueves pasado había 11 condados con casos confirmados del virus. Para el Sabado, ese número subió a 17 condados, y ayer había 23 condados con casos confirmados. Varios de esos condados rodean el nuestro, y yo creo que se tiene que suponer que hay positivos dentro de nuestra comunidad, aunque por ahorita no se han confirmado. Adicionalmente, hay 941 escuelas ordenadas que cierren dentro del estado de Tejas. Además, varios estados ya han ordenado que sus escuelas permanezcan cerradas por el resto del año escolar. Con esa perspectiva en mente, no quisiera distribuir esperanza falsa a la comunidad que regresaremos el 13 de Abril con seguridad. Mantendremos nuestra proyección optimista, y seguiremos observando la situación muy atentamente entre hoy y entonces.
Dentro de los siguientes días, más tardar el Lunes, las maestras(o) empezarán a comunicarse con usted para determinar cuál será la manera más efectiva en la cual entregar la instrucción de sus hijos. Mientras que nos gustaría incorporar instrucción por medio del internet para todos, comprendemos las necesidades de nuestra comunidad y realizamos que algunos no tienen ese acceso. Para algunos, se debe a una necesidad financiera, para otros simplemente no está disponible con regularidad. En algunos casos, las maestras quizá prefieran mandar materia instruccional por medio de copias de papel. Sea lo que sea, nuestra meta es trabajar con usted para asegurarnos que se cumplan con las necesidades educativas de su hijo(a) durante este tiempo tan difícil.
Igual, con cumplir sus necesidades educativas de sus hijos(a), también queremos cumplir con las necesidades nutritivas de su hijo(a). Antes del fin de hoy, estaremos poniendo en el sitio de web escolar, y nuestras páginas de redes sociales, las instrucciones en cómo podemos proveerle desayuno y almuerzo a su hijo(a).
Como mencione anteriormente, estamos embarcados en algo que ninguno de nosotros hemos experimentado en nuestra vida. Durante estos tiempos inestables, mi equipo administrativo y yo, intentaremos compartir información con ustedes lo más que sea posible. Esto es nuevo para todos nosotros, y estoy seguro que cometeremos errores a lo largo del camino. Por favor sepan de antemano que seguimos adelante con corazón de siervo y cualquier error es sin intención.
Estudiantes, por favor manténganse alejados de grupos grandes y de juntas. Los extrañamos. Los amamos y ojalá que todo esto se pase pronto para poder mirarlos de regreso nuevamente en sus clases muy pronto.
Sinceramente,
Dr. Greg Bower