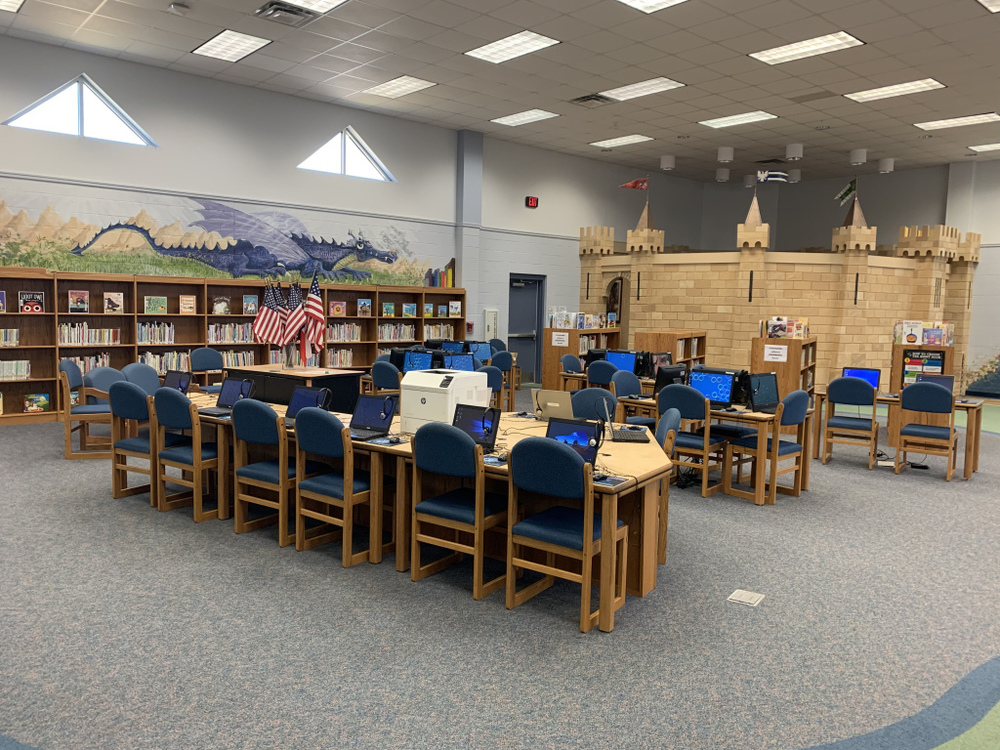 Some Librarians Work in Castles
Greg Bower
Thursday, September 12, 2019
When I walk down the hall as a superintendent, and I see students carrying their library books as they head toward the library, I always smile to myself. I enjoy seeing the smiles on our students' faces as they talk about which books they had and which ones they wanted to get. It always reminds me of the very same excitement that I had as a child when one of my teachers would take my class to the library. I have always loved to read, but I remember that even the friends that I had that did not like to read very much always did as much due diligence looking for a book that they might like as I did. Each one of them – pulling a book down, looking at it, studying the cover, and putting it back -in hopes of finding one that might be just a little bit more appealing. The same excitement I had when I was a child walking into my school's library is the same excitement that I have now when I see students excited about a book. I know many of you know me as a stickler for rules, but I am going to let you in on a childhood secret. When I was in elementary, I would often times ask my teacher if I could use the bathroom. Instead of going to the restroom like I had asked, I would visit the library. I would talk to my librarian about the book that I was reading, and she would ask me questions. I loved the library so much, because my librarian stoked the desire that I had to want to read more. (For those of you who don't know it, children sometimes don't do what they say they are going to do.) I don't advocate for our students to break the rules in order to see the librarians, but that is the kind of power a librarian has. Our students are blessed to have Mrs. Powers, Mrs. Binky, Mrs. Myrna, and Mrs. Sherri as their librarians because they show that passion and desire to help students find a love for books! EVERY-SINGLE-DAY.
As an educator I am always mindful of the teachers that shape the lives of children, but I am also mindful of the incredible librarians that we have who work to introduce books as meaningful parts of children's lives. At Como-Pickton, I believe that we have some of the very best librarians in the state. I have never seen one of our librarians when they were not showing love, care, and patience with students as they work. When you walk into either of our libraries, it just feels like a special place. In fact, our libraries almost have a magical quality to them for our kiddos in the way that they are decorated. You can see this in the pictures that I posted in this blog of our elementary library. It's a special place because the people who work in there make sure that it is special. When our ladies read a story to our elementary angels, they do it inside of the reading castle that is built just for them.
When I see a student with a book, I always try to make it a point to ask them what book they are reading. They are not only excited and willing to tell me, but they usually get into describing the book for me and telling me what it's all about if I ask them. I challenge you to do the same thing the next time you see your student or child reading something. When you do, sit back and read the expression on their face as they explain it. If they are getting into their book, stoke the fire for them to want to read more. If they are not, guide them to try something they might enjoy more. Teaching doesn't just happen within the walls of a classroom. It takes place in libraries, within the walls of all of our homes, and anywhere else we encounter children. The type of reader our children grow up to be, depends on the encouragement we've given them when they are growing up. Encourage a child to read.